Napleton Kia on Northlake: Meet the New Kia K5
A State-of-the-Art Sedan Built for the New Decade
Introducing the first-ever Kia K5 midsize sedan.
The first thing you might have noticed is the simplicity of the name. That's because the new Kia K5 is a modern take on the fundamental elements we love about driving. With a driver-oriented cockpit, turbocharged engines, and a stability-enhancing suspension, the K5 is focused entirely on the basics of what makes a good car.
We believe that "less is more" is all but lost in the midsize sedan market. That's why the Kia K5 is the exclusive choice for those who want a modern car that comes with all the bells and whistles without sacrificing style or performance. Get to know your new favorite model by reading all about the design, performance, and technology of this modern marvel.
But before we get into the nitty-gritty details of the Kia K5, read about how this new sedan differs from the highly popular Kia Optima.
How the K5 Differs from the Optima
Before the arrival of the K5, the Kia Optima catered to drivers who wanted a sensible sedan with a sporty appearance. As the Optima's official replacement, the K5 delivers more of this with a new fastback design, better engine options, and upgraded interior.
To put it simply, the quality of the K5 is vastly superior to the Optima. That's saying a lot because the Optima has been successful for a long period of time, but there is always room for improvement. Kia's team of engineers learned a lot from the Optima's success and figured out what drivers liked and what could have been improved upon in the former Optima.
In order to surpass customer expectations, Kia created the K5 as a true redesign from the ground up. It is the culmination of power and sophistication that will surprise anybody who isn't ready to unlock the K5's full potential. Prepare yourself to test-drive the best midsize sedan ever produced by Kia by learning the basics surrounding the design, performance, and technology of the Kia K5.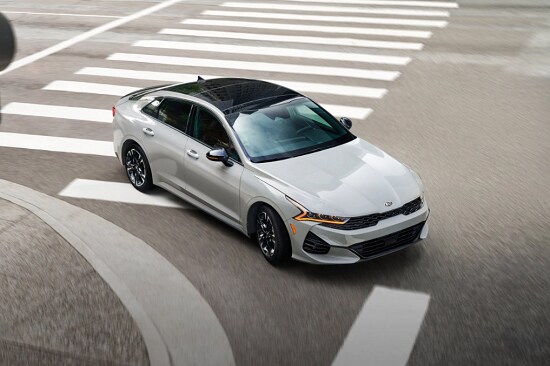 Kia K5 Design
A lot of the new changes are instantly noticeable from the styling of the K5. Both the exterior and interior look profoundly different, giving drivers plenty to "ooh and aah" about.
The cabin has an open layout, providing plenty of room for everyone to feel comfortable in their seats. With design aesthetics like the new wooden trim on the dash, the K5 is highly fashionable, giving you the sense that you might be driving a luxury brand.
A sporty and contemporary exterior are the two high points of the K5's exterior. Highlights include a fastback design, 18-inch alloy wheels, and LED fog lights and taillights. All of these elements look fantastic with the muscular and angular body that is loosely inspired by the Kia Stinger.